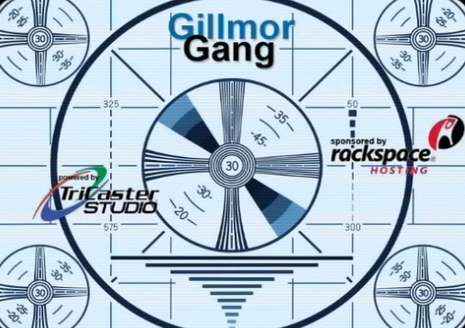 The Gillmor Gang — Robert Scoble, Kevin Marks, John Taschek, and Steve Gillmor — celebrate the freeing of Heather Harde, the health of realtime, the obsolescence of Office, and the gamification of deep enterprise apps. It never ceases to amaze how some people rescue defeat from the jaws of victory, but Techcrunch's loss of its business leader is our gain.
As @scobleizer shows on his undulating realtime screens, Techcrunch past present and future continues to be at the bleeding edge of the social wave. Just as Microsoft continues to box itself into an innovation-free corner and give disruptive energy room to thrive, so too does AOL watch value flow from editorial through the technologies it uncrunched and onto the social mobile platform. As the crowd of another era shouted, the whole world is watching. The revolution will be streamed.
@stevegillmor, @scobleizer, @kevinmarks, @jtaschek
Produced and directed by Tina Chase Gillmor @tinagillmor


KEVIN MARKS
ROBERT SCOBLE
JOHN TASCHEK
Kevin Marks is a software engineer. Kevin served as an evangelist for OpenSocial and as a software engineer at Google. In June 2009 he announced his resignation.
From September 2003 to January 2007 he was Principal Engineer at Technorati responsible for the spiders that make sense of the web and track millions of blogs daily. He has been inventing and innovating for over 17 years in emerging technologies where people, media and computers meet.
Before joining Technorati,…
Robert Scoble is an American blogger, technical evangelist, and author. He is best known for his popular blog, Scobleizer, which came to prominence during his tenure as a technical evangelist at Microsoft.
Scoble joined Microsoft in 2003, and although he often promoted Microsoft products like Tablet PCs and Windows Vista, he also frequently criticized his own employer and praised its competitors like Apple and Google.
Scoble is the author of Naked Conversations, a book on how blogs are changing…
John Taschek is vice president of strategy at salesforce.com. He is responsible for corporate product strategy, corporate intelligence and market influence. Taschek came to company in 2003, bringing over 20 years of technology evaluation experience.
Taschek currently is also the editorial director for CloudBlog – an independent blog run as an adjunct to salesforce.com's web properties. He occasionally is on Steve Gillmor's The Gillmor Gang enterprise web video-cast.
Previously, Taschek ran the testing labs at eWEEK (formerly PC Week) magazine….